CHANNEL 16 - PEACE AND JUSTICE
"PERSHING'S PATHS OF GLORY" - EARLY CIVIL RIGHTS SUPPORTER.

WELCOME TO PFF CHANNEL 16
Pershing's Paths of Glory

Pershing Rifleman Kevin Collins-Nelson and other cadets with a reporter from France Channel 3, during filming of the documentary Pershing's Paths of Glory

Click to view film on Amazon Prime

"At a time when we're all searching for inspirational leaders, it is instructive to examine the qualities of former American heroes. Pershing's admirable traits are on display in Pershing's Paths of Glory. It's moving to see how the young people in this film are trying to learn from his legacy."


Mark Jonathan Harris
"Pershing's Paths of Glory" inspires moral leadership in America.
Pershing "did not dip bullets in pigs' blood!"
General John J. "Black Jack" Pershing's great accomplishments included his two postings to the Philippines where he became famous for the battles he avoided fighting, saving lives, and helping to forge a 40-year peace with the grateful Islamic Moro tribe, who named Pershing an honorary "Sultan." General Pershing's personal commitment was legendary - he even read the Islamic Koran holy book so he could better understand the Moro tribes and their faith.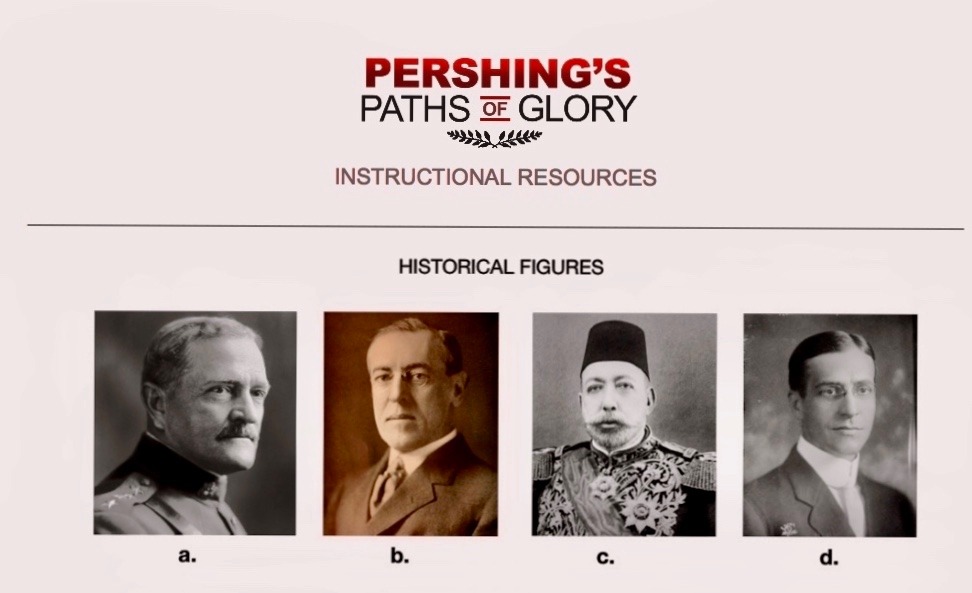 Free Instructional Resources for
"Pershing's Paths of Glory" in the Classroom
Encouraging students to talk about and reflect on what they know and think about General Pershing and World War1 before and after viewing the documentary Pershing's Paths of Glory can be a catalyst for engaging in the other follow-up materials and activities. For example, teachers can check student responses, comment on them, show the film, and then go on to the post viewing questions. Speaking in discussion groups or writing persuasive essays enable students to solidify and voice their opinions.
U.N. Police Officer Phyllis Osei from UNSOM wins Female Peacekeeping Award
Superintendent Osei has played an important role in enhancing the protection of women and girls, sparking initiatives to promote women's rights in the Jubaland state police force. She successfully initiated adult literacy training for 49 female police officers. Ms. Osei also formed a Female Peacekeeper Network to support female peacekeepers working with the UNSOM and the African Union Mission in Somalia (AMISOM). UN Police Adviser, Commissioner Luis Carrilho, praised Superintendent Osei for her exemplary conduct.
"Ms. Osei was deployed to Somalia earlier this year in February 2018", he said. "By April, she had already identified and trained two [staff to tackle gender issues] in AMISOM who went on to mentor and advise police officers in the host state police. Soon after, Ms. Osei established four gender desks in the host state police, facilitated a training on sexual and gender-based violence (SGBV), and initiated a proposal that called for the establishment of a police post near the community thus ensuring access for SGBV survivors".
Women in Law Enforcement
>
U.N. Goal 16: PROMOTE JUST, PEACEFUL AND INCLUSIVE SOCIETIES
1936: Pershing Warns America Against Dictators
Representing President Franklin D. Roosevelt and the people of America, General John J. "Black Jack" Pershing speaks at the Tomb of the Unknown Soldier, Washington, D.C., November 11, 1936; a portion of this scene appears in the documentary, Pershing's Paths of Glory]
Your support and contributions will enable us to meet our goals and improve conditions.
Your generous donation will fund our mission.